Employment Practices Liability(EPL)
"Along with private-party lawsuits, the increase in claims brought by federal, state, and city regulators has companies of all sizes securing EPL insurance" - Advisen
Employment Practices Liability Insurance (EPL) is one of the fastest growing areas of concern for businesses today. Litigation by employees ( past, present and potential) for allegations of discrimination based on sex, race, age, disability, wrongful termination, harassment, and other employment-related issues, such as breach of contract has been on the rise and will most likely increase as the economy changes. Claims from third parties, such as customers and vendors, also pose an exposure to employers. The recent NRLB decision on Joint-Employer has many industries concern.
Every business is at risk of an employment claim starting with the interviewing of a prospective employee. For example, if you choose not to hire the interviewee, that individual could allege discrimination. Alternatively, if you hire that person and later fire them due to poor attendance, that discharged employee could claim wrongful termination.
How Should EPLI Coverage Be Secured
EPLI coverage is available in one of two ways. These include the following:
As stand-alone EPLI policies

As a component of management liability/executive liability package policies
There are advantages and disadvantages to both options. We will be glad to assist you and your client by reviewing the pros/cons of each approach.
How is EPL Coverage Rated
The cost of insuring your business for EPLI coverage depends on a variety of factors, such as the number of people you employ, if you have had prior suits lodged against the company, the percentage of employee turnover, and if you have established rules and practices in place.
EPL coverage is typically written on a claims-made basis. This means the incident resulting in the claim had to occur during the coverage period. Because employment claims often come months or even years after the alleged incident, an employer might be vulnerable if the insurance coverage was dropped or if tail coverage (liability insurance that extends beyond the end of the policy period) wasn't purchased.
Understand Employment Law
Many laws are in place to protect the rights of people you hire or are considering hiring. While employment practices liability insurance is a smart investment for many companies, it is important to understand and carefully follow these laws to prevent a claim:
Title VII of the Civil Rights Act of 1964, prohibits discrimination based on race, color, religion, national origin, and sex. It also prohibits sex discrimination based on pregnancy and sexual harassment.
The Equal Pay Act of 1963, prohibits employers from paying different wages to men and women who perform essentially the same work under similar working conditions.
The Civil Rights Act of 1966, which prohibits discrimination based on race or ethnic origin.
The Immigration Reform and Control Act of 1986, prohibits discrimination based on national origin or citizenship of persons who are authorized to work in the United States.
The Americans with Disabilities Act of 1990, prohibits discrimination against persons with disabilities.
The Bankruptcy Code, prohibits discrimination against anyone who has declared bankruptcy.
Equal Employment Opportunity Act of 1972, prohibits discrimination against minorities based on poor credit ratings.
The Age Discrimination in Employment Act, prohibits discrimination against individuals who are age 40 or older.
Employment Practices Liability Risk
Your clients are at risk of an employment claim from the moment they interview a prospective employee. For example, if you choose not to hire the interviewee, that individual could allege some sort of discrimination.
Alternatively, if you hire that person and later fire them due to poor attendance, that discharged employee could claim wrongful termination.
To lower your employment practices liability risk, do the following:
Review any loss exposures with your insurance agent and purchase adequate amounts of employment practices liability insurance.
Develop a handbook detailing your company's employment policies and procedures for disciplining or terminating an employee. Make sure all employees read the handbook and sign a statement to that effect.
Create a job description for each position that clearly defines expectations of skills and performance.
Conduct periodic performance reviews of employees and carefully note the results in the employee's file.
Develop a screening and hiring program to weed out unsuitable candidates on paper before calling them to interview in person.
Conduct background checks on all possible candidates and avoid hiring workers with a history of alcohol or substance abuse.
Institute a zero tolerance policy regarding discrimination, substance abuse and any form of harassment. Make sure you have an "open door" policy in which employees can report infractions without fear of retribution.
Create an effective record-keeping system to document employee issues as they arise. Document what the company did to resolve those issues.
Important items to consider when evaluating EPL
Wage & Hour
See our white paper : Link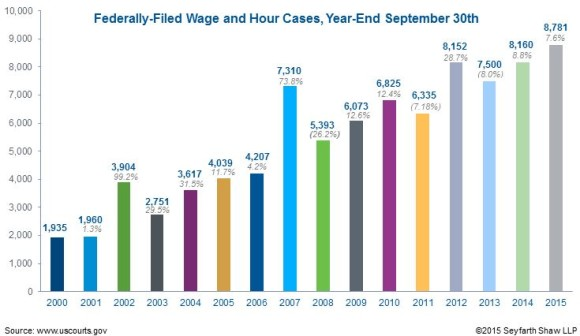 Joint Employer
Until relatively recently companies could easily protect themselves from being brought into a joint employment matter by avoiding the exercise of direct control over their employees when relying on staffing agencies, general contractors and franchisors. This was not only good risk management but also just good business as companies wanted to transfer employment issues. A recent National Labor Relations Board (NLRB) ruling has removed much of that protection, with deep implications for EPLI policies.
See our article on Joint-Employer published in the Betterley Report Link (JE_Betterley)
Consent to Settle (Hammer)
It's claims settlement time: Do you know what leverage your insurance company has? Most comprehensive general liability policies contain limit language, which states the insurer has a "right" to settle claims—thus leaving an opportunity for discussion.
The settlement language in D&O, E&O and EPL policies are quite different.
See our article explaining "Hammer Clauses" Link
"Please see polic(ies) and endorsement(s) for exact terms, conditions and exclusions. Each insurance company has its own policy language. We encourage you to seek legal advice prior to securing any insurance."
Marketing
Application
Claims Examples
Articles
Other